Introduction
→ введение
→ Sissejuhatus
→ Johdanto
How can we imagine materializations of intensive coexistence – cities – based on plural, intergenerational time horizons, care, and dialogical ways of being?
(Re)configuring Territories is a multidisciplinary research programme that brings together practitioners who reflect on questions of space in their work. The programme includes topics on activist urban planning, feminist ways of organizing, multidisciplinary dialogue and ecological thinking, situating these discussions in the context of the Baltic Sea Region.
(Re)configuring Territories explores how reading, modelling, storytelling, archiving, caretaking, translation and urban environment maintenance practices are intertwined and constantly changing. The programme asks questions about borders and inhabiting border terrains; about owning space and the mechanisms that produce otherness; about unevenly distributed privilege and marginalized ways of pursuing a meaningful life in a broken landscape in which territories are dynamic and constantly changing.
The programme is situated within the Narva Art Residency, in the Estonian city of Narva at the Estonia–Russia border, the eastern external border of the EU. The joint organizers of the programme are the Narva Art Residency, the Helsinki-based Trojan Horse initiative, and the Finnish Institute in Estonia.
THE INDETERMINATE TERRAIN BETWEEN DISCIPLINES
(Re)configuring Territories aims to initiate conversations between architects, artists, design anthropologists, political geographers, theory-fiction writers and other practitioners whose work deals with urban spaces, borders and spatiality. We hope to form multilayered fellowships between different practices that will facilitate different ways of thinking, situating oneself and being vulnerable. We believe that, by approaching the unknown field that lies between more specifically defined and institutionalized practices, we can begin to locate and materialize the specific questions, positions and situations that give rise to incompatibilities and interdependencies between practices.
The programme encourages practitioners to listen and learn from each other, to develop speculative, performative and critical research practices, and to raise socially and ecologically situated questions. It is our hope that these questions will help us to develop more diverse cities, environments, surroundings and ways in which to live together.

ACTIVE FORMS OF ARCHITECTURE
The programme is inspired by architect Keller Easterling's formulation about active forms of architecture. In her writing, she describes how invisible structures such as standards, protocols and procedures shape cities, urban environments and the ways we come together. For Easterling, architecture is more than the mere examination of physical objects such as buildings and cities; it is also related to the regulations, thinking patterns, routines and parameters that have an indirect bearing on the design of physical environments.
Referring to these invisible and changing structures as Active Forms, Easterling affirms that the way we produce architecture is at least as important as the physical nature of these structures and buildings. (Re) configuring Territories focuses on these Active Forms of Architecture, seeking to identify and develop ways of being, practising and encountering that will make the ways we live together more diverse and sustainable.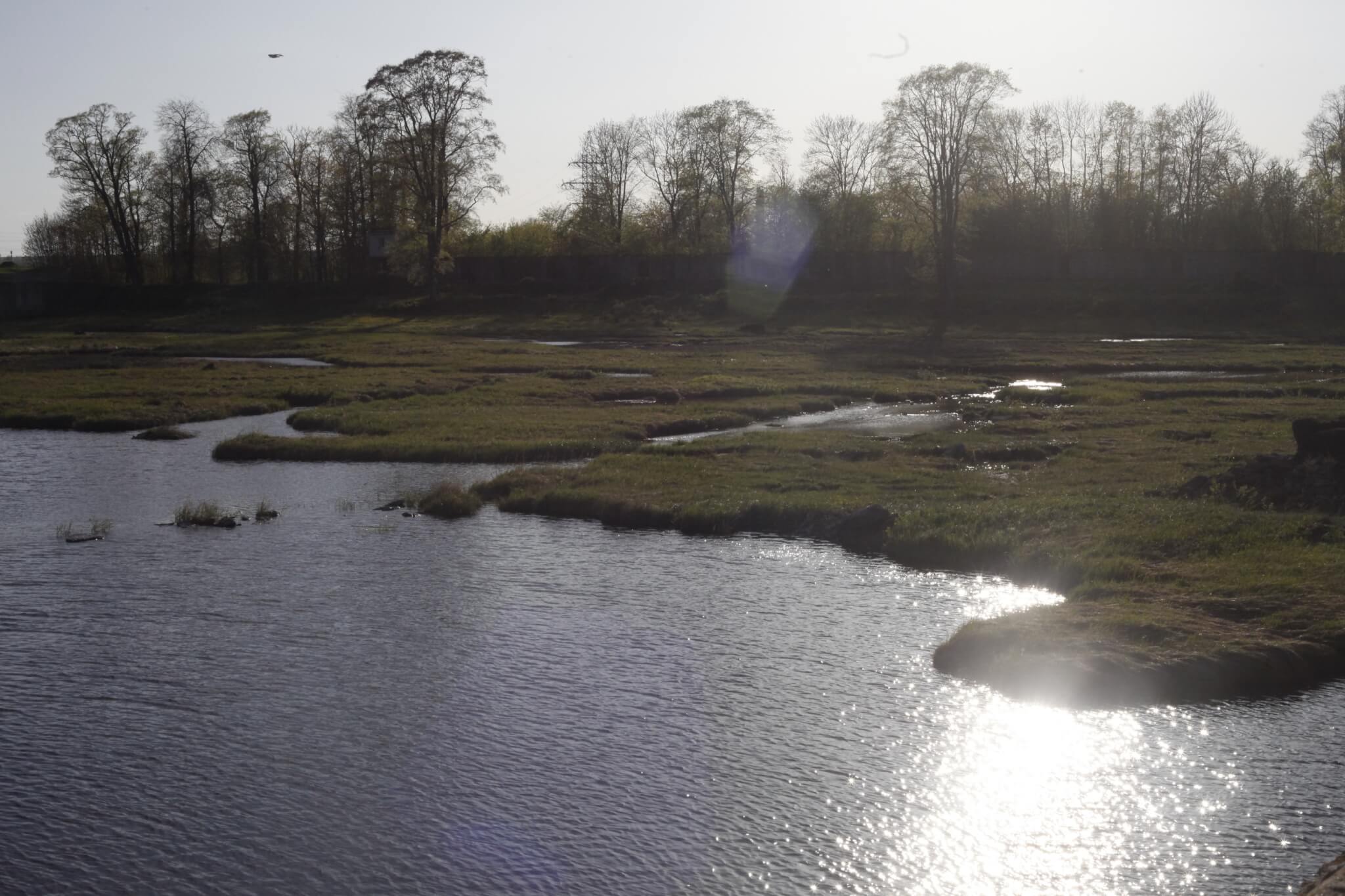 (From here on we will outline practicalities and the schedule for the program)
ANNUAL CYCLE
The programme combines three annual iterations in a cyclical process: a week-long Spring School, a one-month Research Residency, and a Live Action Role Play weekend. Each year's cycle begins with the Spring School. The knowledge produced during the week in the spring will then be further analysed and processed by artists and researchers during their residency period; this in turn will provide starting points for the immersive Live Action Role Play which proposes a reconfiguration of the urban space. All three phases share an interest in using situated immersive and collective research methods together with neighbouring territories and disciplines in a joint approach to the modelling of urban spaces and informal learning.
SPRING SCHOOL
The Spring School is a week-long gathering and workshop to explore various collective reading, archiving, modelling, storytelling, and urban environment care and maintenance practices. The grounds around the Narva Art Residency building will be used as a public laboratory for participants to dream up and try out proposals that explore the urban environment in Narva. The week will culminate in an open event to present and discuss the process with the local public.
RESEARCH RESIDENCY
The (Re)configuring Territories Research Residency is intended for practitioners and researchers who share an interest in situated practices and speculative approaches in the Baltic Sea Region. The artist-in-residence is chosen through an open call, and will live and work in the Narva Art Residency's facilities, where they will be able to concentrate on their own artistic practice within the context of our programme. The resident will participate in the Live Action Role Play and the Spring School, and their research and artistic practice will be taken into consideration in the framing of the theme for the Role Play and Spring School gatherings.
LARP
Live Action Role Play (LARP) is a critical play for a first-person audience. The players in a LARP relate to a fictional world from the first-person perspective of a fictional character. In the (Re)configuring Territories programme, role-playing is a tool used for testing possible narratives in the Baltic Sea Region in the speculative role of an architect, a designer or an artist. The practice of immersion in fictitious characters and environments enables artists and designers to question the conventions and norms of today's reality and contemplate the long-term consequences of actions we are taught to take and processes we are thought to be part of.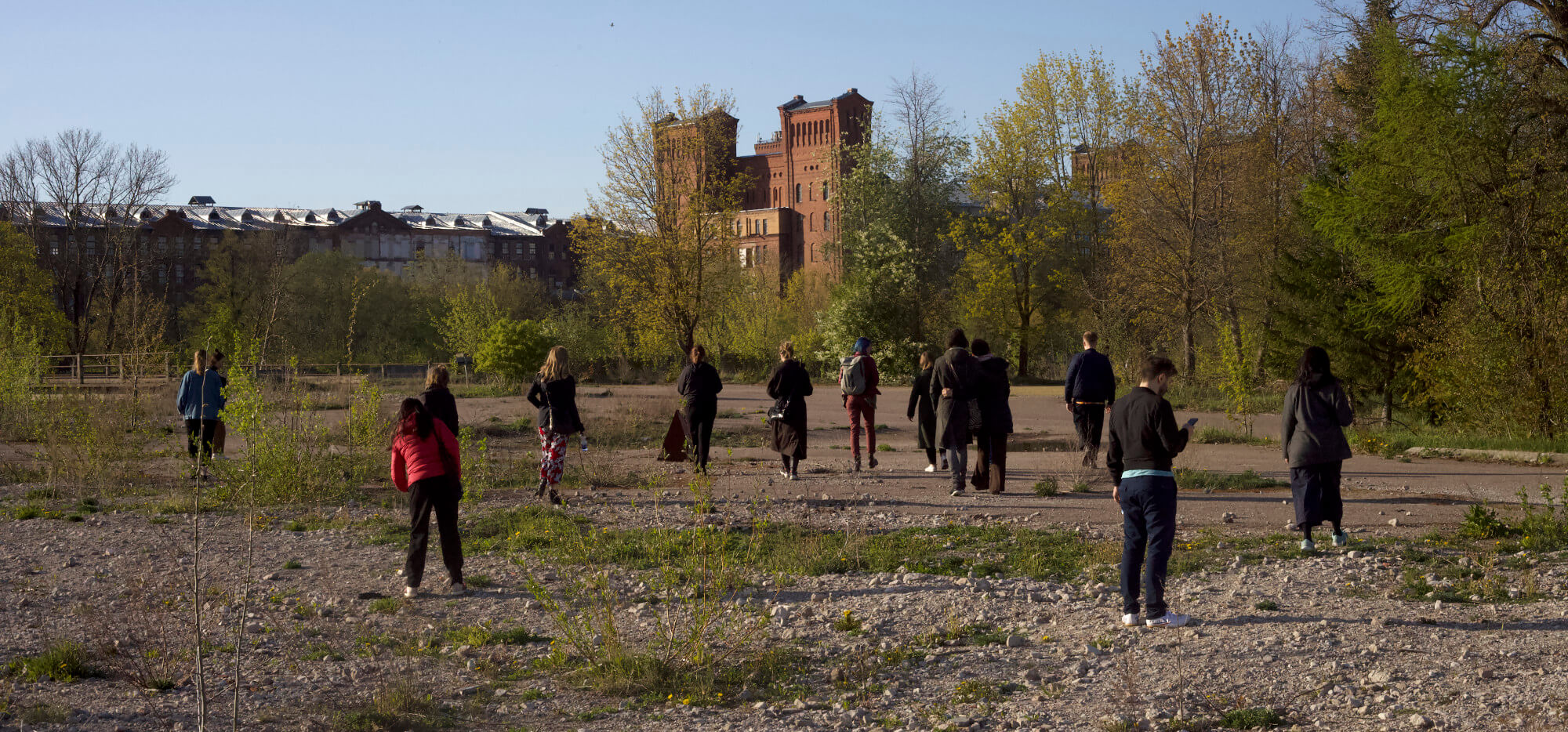 ( Field trip to Kreenholm cotton factory area, Spring School 2019 )
FOUR-YEAR DURATION
(Re)configuring Territories has been designed as a programme with three iterations from 2019 to 2022. Each of the three years approaches cities and collectiveness from a somewhat loose temporal perspective. Due to the Covid-19 epidemic, the program for 2020 will be rescheduled to resume in 2021. The years 2020–2022 are supported by the Kone Foundation.
YEAR ONE: STORIES OF YESTERDAY – CITY AS AN ARCHIVE
In the first year of the programme, the city of Narva was approached as an archive. What kind of conflicts and tensions can we find in the different material, informational and social sediments of the city? Whose stories are being told, written down and archived? Who are the main protagonists? Whose voices are not being heard in these stories?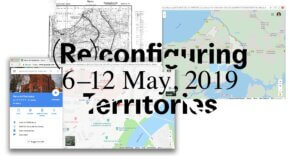 The first instalment of the programme was a Spring School that took place from 6–12 May, 2019, and was structured around three overlapping workshops, each of which approached Narva from a different angle and on a different temporal scale.
In the Theory, History, Poetry Workshop led by Yin Aiwen, participants walked through history in poetry, ate theory on history, and wrote poetry on theory by wandering, listening, reading, ruminating, conversing and writing together in the city.
In the metaNAR – Narration for Digital Society Workshop led by Damiano Cerrone, participants used digital means to explore the metamorphology of Narva, process the digital footprint and map the collective landscape of the city.
In the Deconstructed Field Study Workshop led by Polina Medvedeva, participants interacted with the city and its inhabitants, documenting small stories and local knowledge about Narva's informal economies and non-conformist communal structures.
See more about the 2019 Spring School here.
YEAR TWO: TALES OF TODAY – FEMINIST SPATIAL PRACTICES
In 2020 and 2021, we explored narratives of development and decay and sought out ways to approach our collective vulnerabilities as a deconstructive process. We explored care, fairy-tales and performative practices as ways to challenge the dominant socio-spatial order and look for socially and ecologically more sustainable ways to live together.
In the spring of 2021, TOK curators from St. Petersburg joined the Research Residency to explore curatorial strategies with which to challenge the borders of the territory of art and seeked out ways for art to foster social change. TOK curators critically rethought the parameters for historical analysis of post-industrial areas in cross-border territories between Russia and Estonia, as well as explored their common political, industrial and ecological history.
At the end of their residency TOK Curators organized an event where they aimed to integrate the economic, manufacturing and architectural processes of decay of the Ida-Viru region into a wider geographical and conceptual framework.
See more about the event here.
Along with the Research Residency, we organised a Spring School and a Role Play.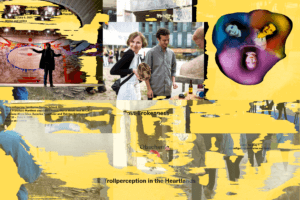 The 2021 Spring School took place on May 31 – June 6, 2021. It hosted three workshops on feminist spatial practices.
The Post-Brokenness workshop led by anthropologist Francisco Martínez and urbanist Andra Aaloe – studied how personal and collective relationships are sustained in relation to the maintenance and repair of the surrounding environment.
The Obshchenie workshop led by graphic designer, baker and writer Maria Muuk – explored personal and local habits and preferences that start with food and dining but tell a lot about class, cultural backgrounds, feelings of home and political inclinations.
The Trollperception in the Heartlands workshop led by architecture, art and design practice MYCKET turned to folktales and legends to reconnect to that time when people in our regions lived closer to, and were more subordinated to nature.
See more about the 2021 Spring School here.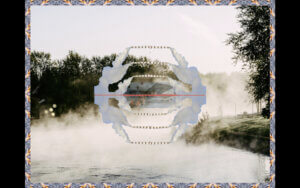 Dear Mist: A Journey Through Folklore and Energy Politics was the first (Re)configuring Territories Live Action Role-Play. Through the backstory of folklore the LARP explored emerging relationships to the river Narva, water bodies and the environment at large, while tying into the wider energy politics of the Baltic region.
See more about the Dear Mist LARP here.
YEAR THREE: HISTORIES OF TOMORROW – SPECULATIVE EDUCATIONAL INSTITUTIONS AND CITIES OF THE NEAR FUTURE
The third year of the programme explored the politics of collective imagination in the midst of the socio-political and technological upheavals we currently face. We drafted scenarios and wrote suggestions for the future, building support structures and small gestures to sustain the speculative research processes and practices we have initiated during the first years of the programme.
In the spring of 2022, artist duo varialambo took part in the Research Residency. Their research and multidisciplinary-oriented practice is grounded in the fields of theatre, sculpture, performance, public space and time-based arts. In their work, they use in situ observations, recorded interviews, sound takes and ethno-poetic speculative approaches to validate or undermine our first impressions and leave binary interpretations behind, seeking answers that will lead to non-violent, control-free social interaction in space. varialambo will present their work as part of an exhibition: НА КОЗЕ НЕ ПОДЪЕДЕШЬ (YOU CAN'T GET THERE ON A GOAT) at Narva Art Residency.
More about the exhibition here.
In the summer of 2022, Laura Kuusk took part in the Research Residency. During the residency Laura seeked ways to be an agent of activation for the issue of natural and cultural territory changing through the consequences of war and climate change. Laura will share her research as part of the Festival of Invitations programme.
Along with the two Research Residencies, we again organised a Spring School and a Role Play.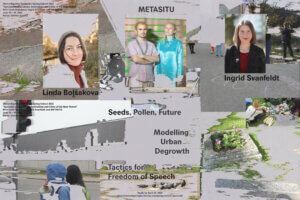 The 2022 Spring School consisted of three overlapping workshops which together formed a School for Speculative Environmental Education.
The Seeds, Pollen, Future workshop led by artist Linda Boļšakova asked: What are we except for a living relation? And what does this imply for agency and identity?
The Modelling Urban Degrowth workshop led by METASITU looked for models and master plans to illustrate degrowth urban futures.
The Tactics for Freedom of Speech workshop led by journalist Ingrid Svanfeldt looked at freedom of speech and the role of media as an infrastructure forming societies and constructing inter-territorial roles and positions.
See more about the 2022 Spring School here.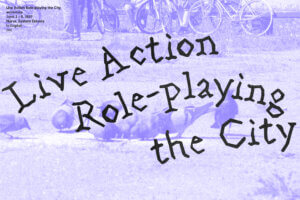 Live-Action Role-playing the City was the second Reconfiguring Territories LARP. It explored performative artistic research in the context of urban surroundings. How can cities be approached by means of LARPs? How can LARP exercises be used for questions dealing with the city? What kind of power structures emerge?
The (Re)configuring Territories research programme will come to its end as a Festival at Narva Art Residency.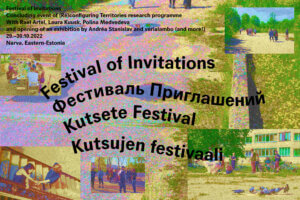 The Festival of Invitations is a two-day event that consists of lectures, discussions, workshops and a celebratory dinner at the Narva art residence and its surroundings. The event also celebrates the opening of an exhibition by varialambo and Andréa Stanislav.