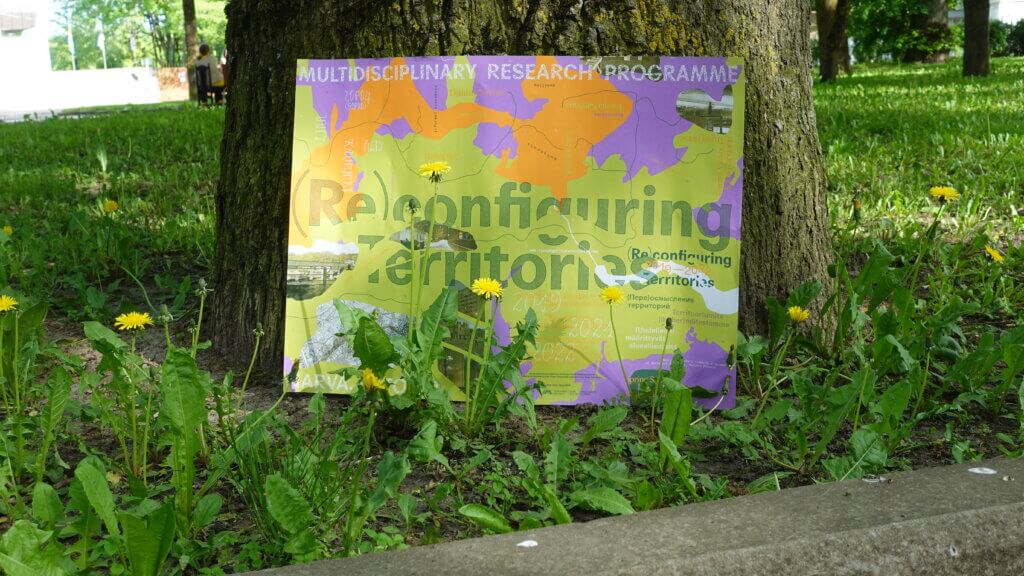 (Re)configuring Territories: Spring School 2021 presentations in Narva
June 5th, 2021
10:30-15:00
@ Narva Art Residency and online
A week-long intensive Spring School culminated with a hybrid public event where the participants of the three workshops shared glimpses of their processes and findings.
The public event started online with Charming Perspectives where participants of the Trollperception in the Heartlands workshop presented some of the <<charms>> they worked with during the week. The group also made an exhibition of the <<charms>> to the (Re)configuring Territories instagram feed.
The event continued with the Archaeology of Postsocialist Narva tour by the Post-Brokenness workshop group. The cycling tour began at the Narva Art Residency and went around Narva where the participants presented objects, installations and public spaces as speculative archeological findings thirty years in the future.
After the tour the event continued with a common lunch moment, which reflected the topics that the Obschenie group had worked with during the spring school week.
The event ended with a tour to Kreenholm factory area where Sandra Kosorotova presented her project The Garden of Death.
Spring School Workshops
→ Весенняя Школа
→ Kevadkool
→ Kevätkoulun työpajat
Andra Aaloe and Francisco Martínez will host the workshop 'Post-Brokenness' in the (Re)configuring Territories Spring School taking place in Narva (May–June 2021). Selected participants will study how personal and collective relationships are sustained in relation to the maintenance and repair of the surrounding environment, opening up a wide range of questions about care-taking, sustainability and the fragility of the worlds we inhabit.

Other news
→ Новости
→ Uudised
→ Uutiset
Live-Action Role-playing the City is a weekend-long workshop that explores performative artistic research in the context of urban surroundings. How can cities be approached by means of LARPs? How can LARP exercises be used for questions dealing with the city? What kind of power structures emerge? The workshop will begin on Friday, May 3 at 4p.m. and end on Sunday, June 5 at 3 p.m. 5-8 participants will be admitted to the workshop. Register by May 20.