News
→ Новости
→ Uudised
→ Uutiset
May 2021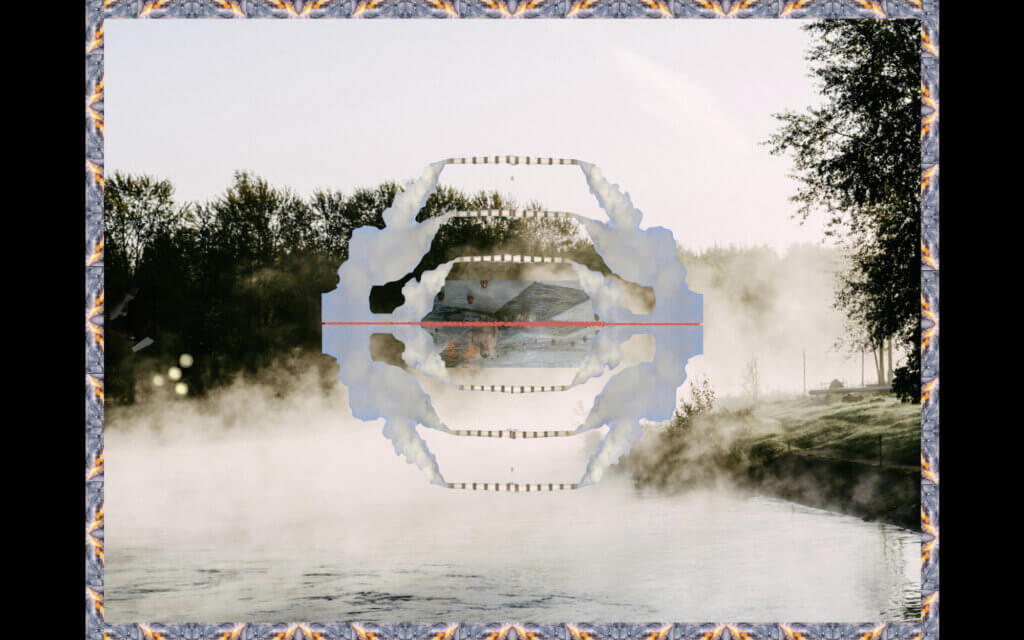 Dear Mist: A Journey Through Folklore and Energy Politics.
LARP (Live Action Role-Play)
May 28–30, 2021
Online, in English
Free of charge
The live action role-play taking place in Narva, eastern Estonia. Because of the ongoing epidemiological situation this year's LARP participants will be online; facilitated by technologies like geo-located audio AR, instant messaging apps, Zoom and live-stream webcams. The river Narva and its lore will be transported and beamed to you.
April 2021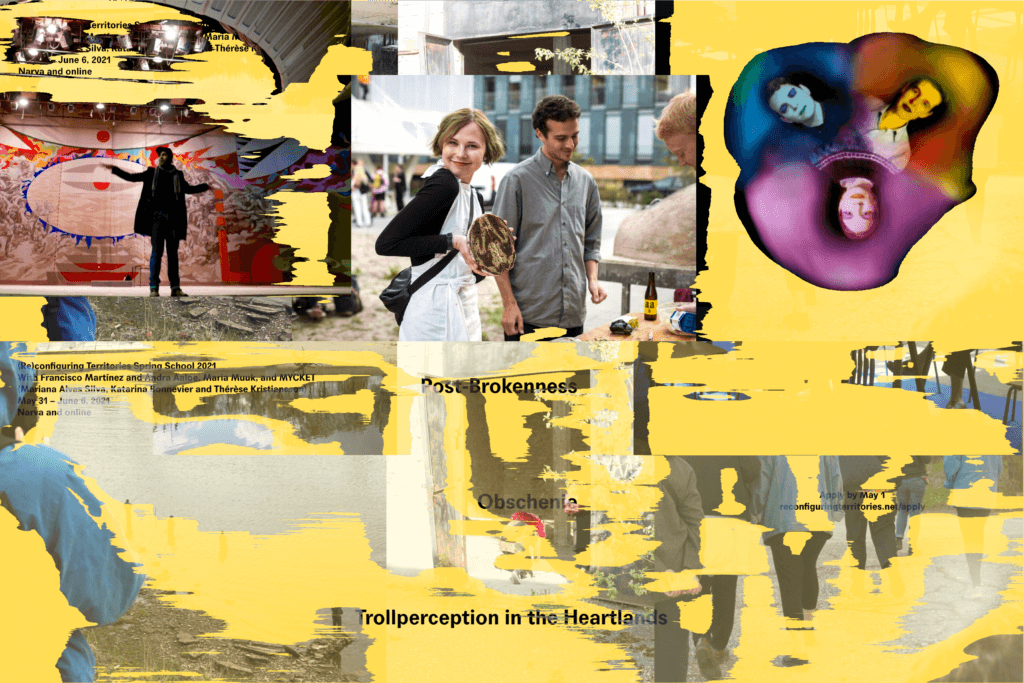 SPRING SCHOOL 2021 OPEN CALL
(Re)configuring Territories Spring School 2021
With Francisco Martínez and Andra Aaloe,
Maria Muuk, and MYCKET (Mariana Alves Silva, Katarina Bonnevier and Thérèse Kristiansson)
May 31 – June 6, 2021
50€ / 0€
(Re)configuring Territories programme continues as a week-long Spring School on May 31 – June 6, 2021. The Spring School consists of three simultaneous workshops mentored by anthropologist Francisco Martínez and urbanist Andra Aaloe, graphic designer, baker and writer Maria Muuk, and architecture, art and design practice MYCKET.
December 2020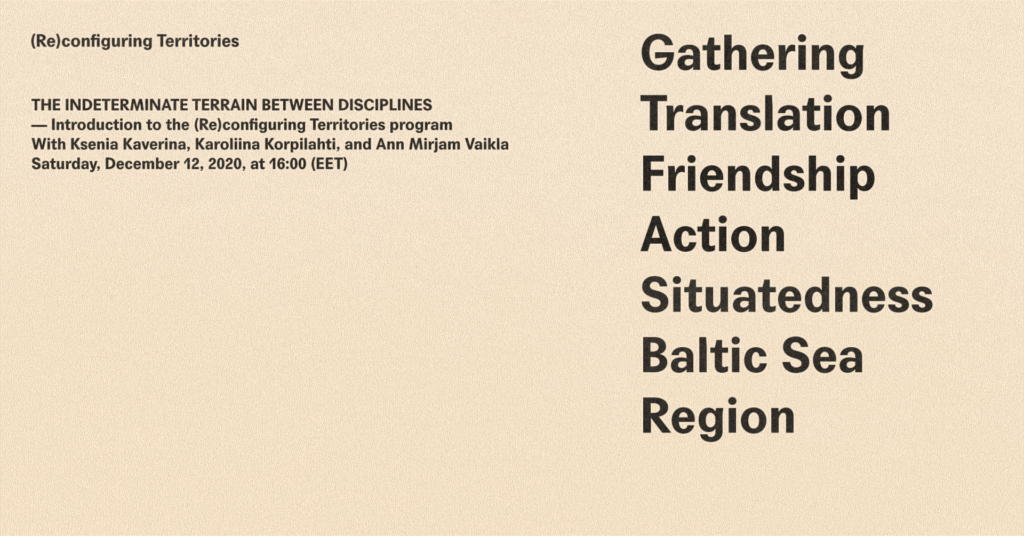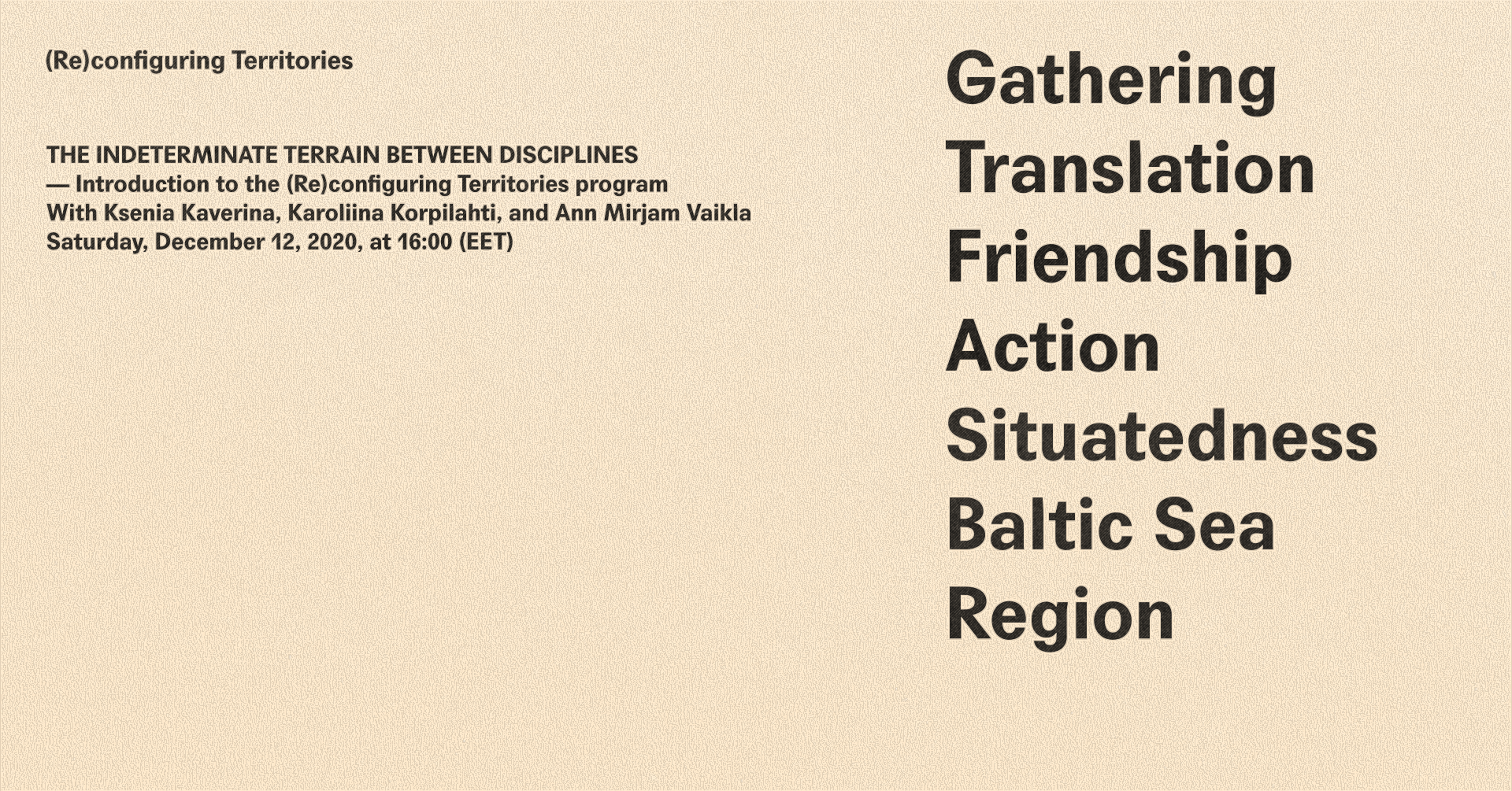 The Indeterminate Terrain Between Disciplines
– Introduction to the (Re)configuring Territories pragramme
With Ksenia Kaverina, Karoliina Korpilahti and Ann Mirjam Vaikla
Saturday, December 12, 2020, at 16 (EET)
The first (Re)configuring Territories talk was a discursive introduction to the research program. How can residencies and gatherings create discussions about borders, territories, and design and architecture cultures?
(Re)configuring Territories program curators Kaisa Karvinen and Tommi Vasko talked with curator and archivist Ksenia Kaverina, program director Karoliina Korpilahti and Narva Art Residency's director Ann Mirjam Vaikla.
December 2020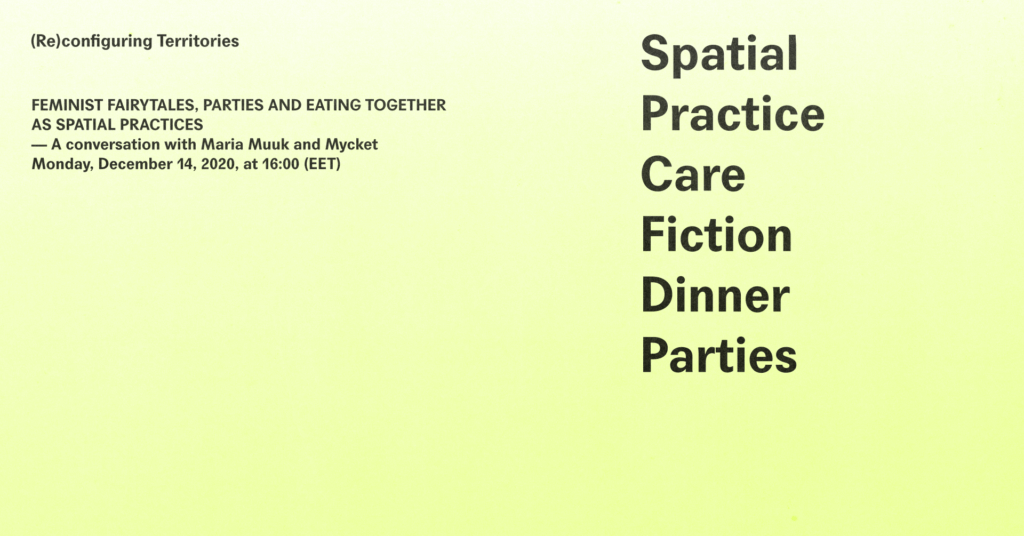 Feminist Fairytales, Parties and Eating Together as Spatial Practices
–– A Conversation with Maria Muuk and MYCKET
Monday, December 14, 2020, at 16 (EET)
Could fiction and eating dinner together be seen as ways to question the conventional methods of spatial and design practices? Can these careful methods create a more resilient and discursive architecture and design culture?
In the talk, the art & architecture group MYCKET (Mariana Alves Silva, Katarina Bonnevier, and Thérèse Kristiansson), graphic designer/writer/baker Maria Muuk and curator Kaisa Karvinen investigated strategies in each of their practices and dreamed about possible roles of architects and designers in the neighborhoods of current society. The talk began with a short reading.
A recording of the conversation is available here:
https://www.facebook.com/548218410/videos/10158372988713411/
December 2020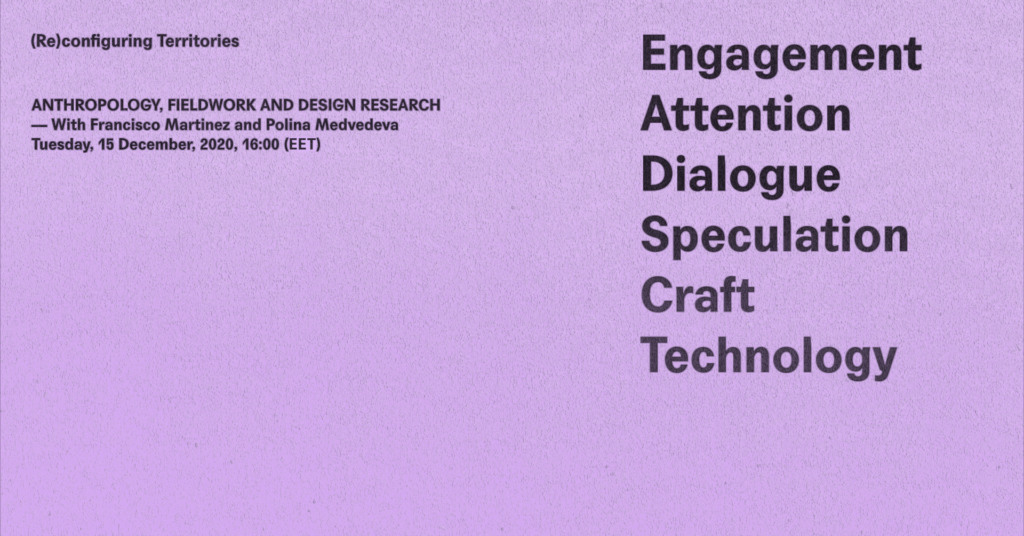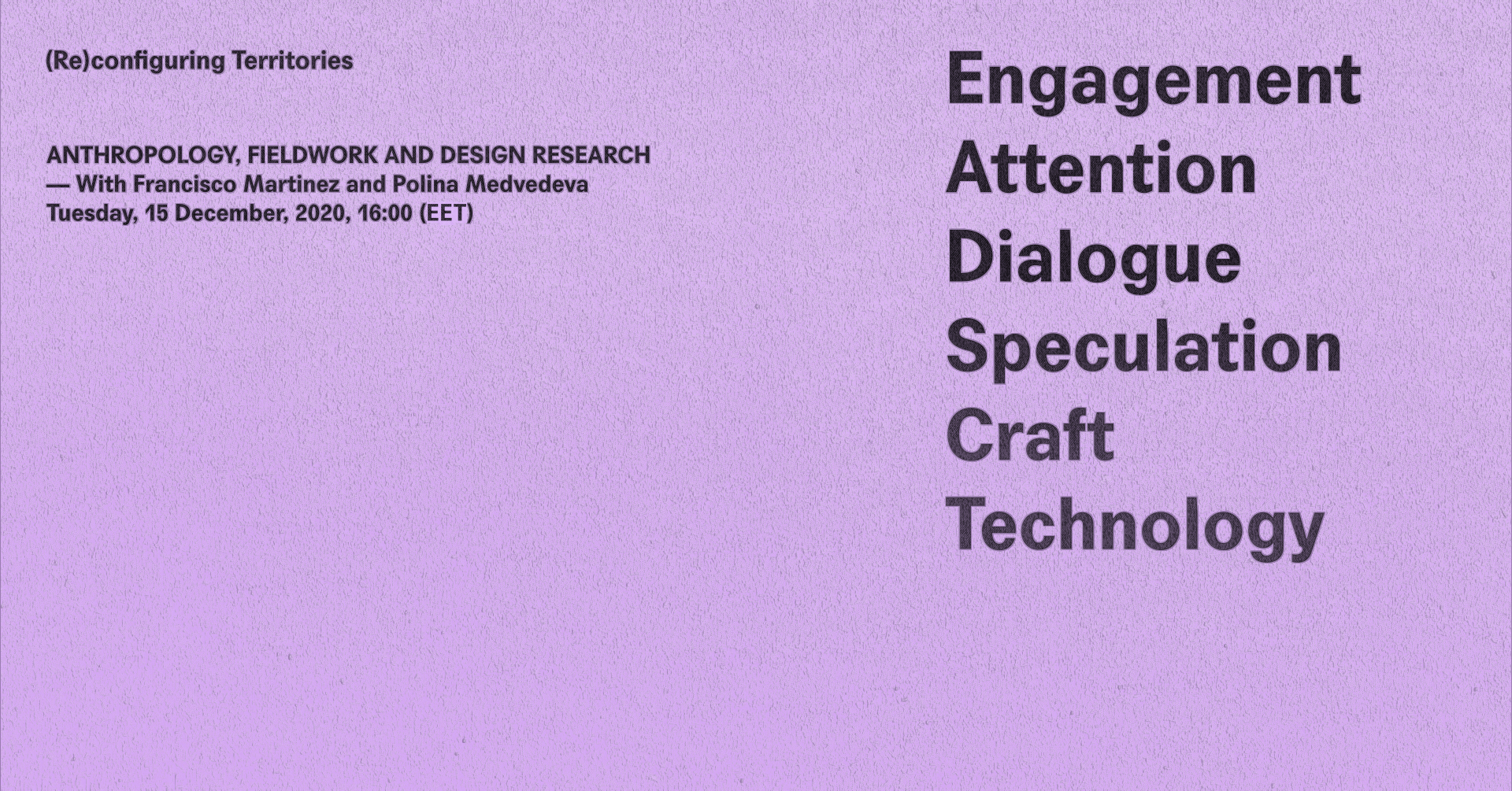 Anthropology, Fieldwork, and Design Research
– With Francisco Martinez and Polina Medvedeva
Tuesday, December 15, 2020, at 16 (EET)
Interest in anthropology is growing in situated architecture and design research circles, with fieldwork and community-led design processes becoming an increasingly important part of the critical discourse. What should architects, designers, and artists know from anthropology and its methodology? What can these disciplines learn from each other?
(Re)configuring Territories program curator Tommi Vasko talked with professor Francisco Martínez and filmmaker and artist Polina Medvedeva about fieldwork and the relationships between artistic research and anthropology.
A recording of the conversation is available here:
https://www.facebook.com/548218410/videos/10158375099213411/