NEWS
December 2020
(Re)configuring Territories talks
– Three experiments in the fields of design and architecture research.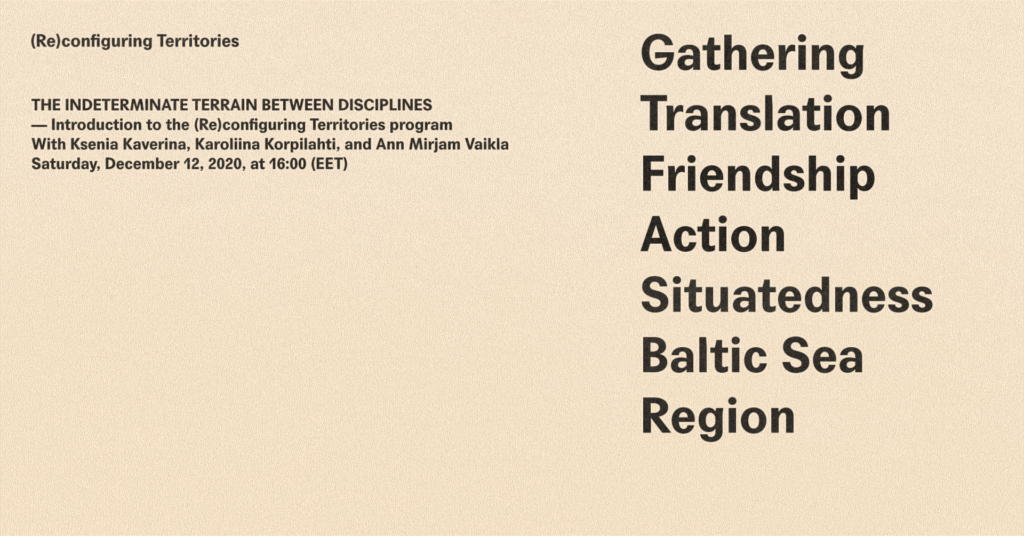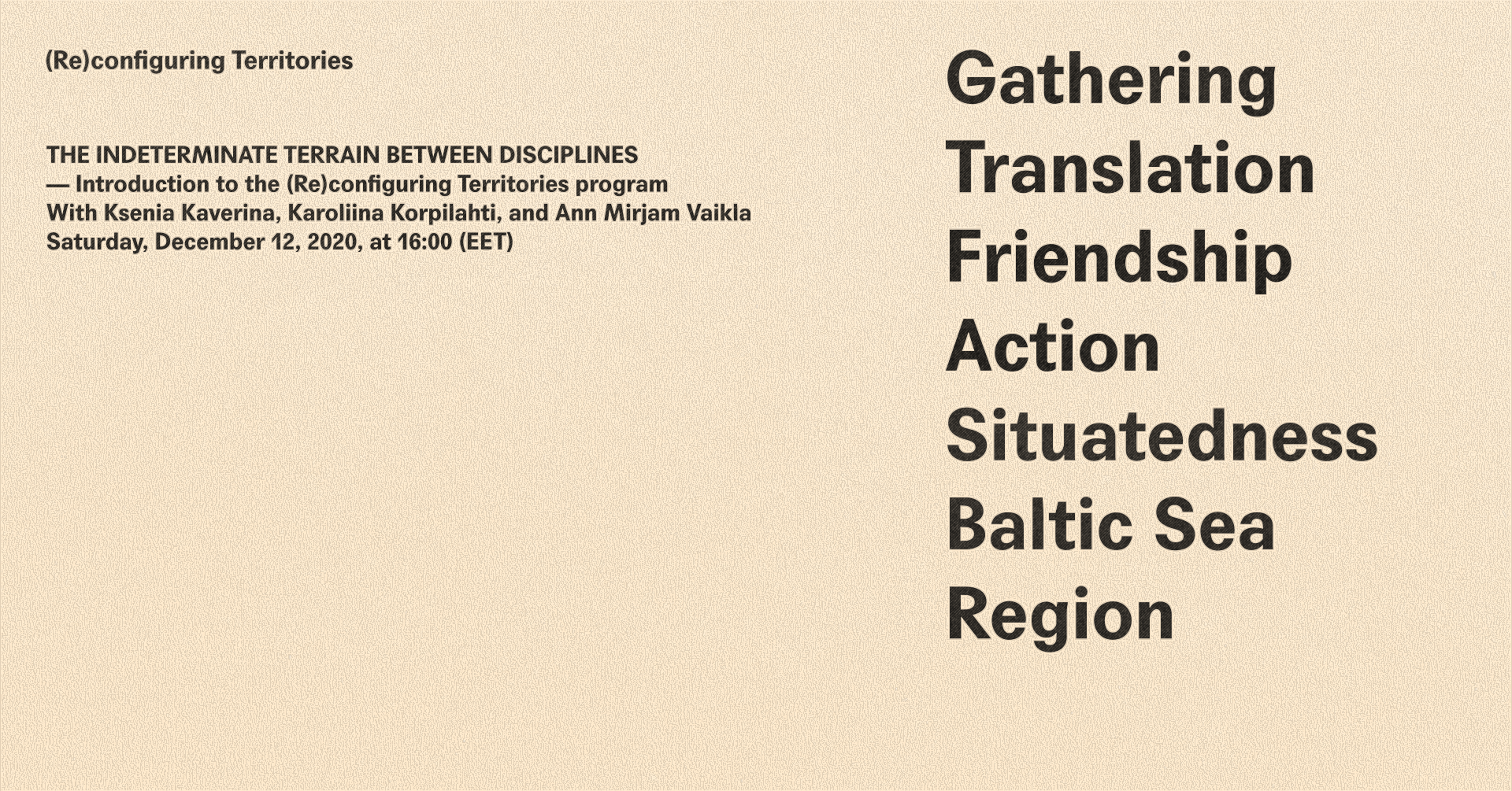 The Indeterminate Terrain Between Disciplines
– Introduction to the (Re)configuring Territories pragramme
With Ksenia Kaverina, Karoliina Korpilahti and Ann Mirjam Vaikla
Saturday, December 12, 2020, at 16 (EET)
The first (Re)configuring Territories talk is a discursive introduction to the research program. How can residencies and gatherings create discussions about borders, territories, and design and architecture cultures?
(Re)configuring Territories program curators Kaisa Karvinen and Tommi Vasko will talk with curator and archivist Ksenia Kaverina, program director Karoliina Korpilahti and Narva Art Residency's director Ann Mirjam Vaikla.
The conversation can be followed online on Zoom
Join Zoom Meeting https://zoom.us/j/95542679536?pwd=T0NiNzdhNWdkVzlVdit3d3o4SkdIdz09
Meeting ID: 955 4267 9536
Passcode: 346007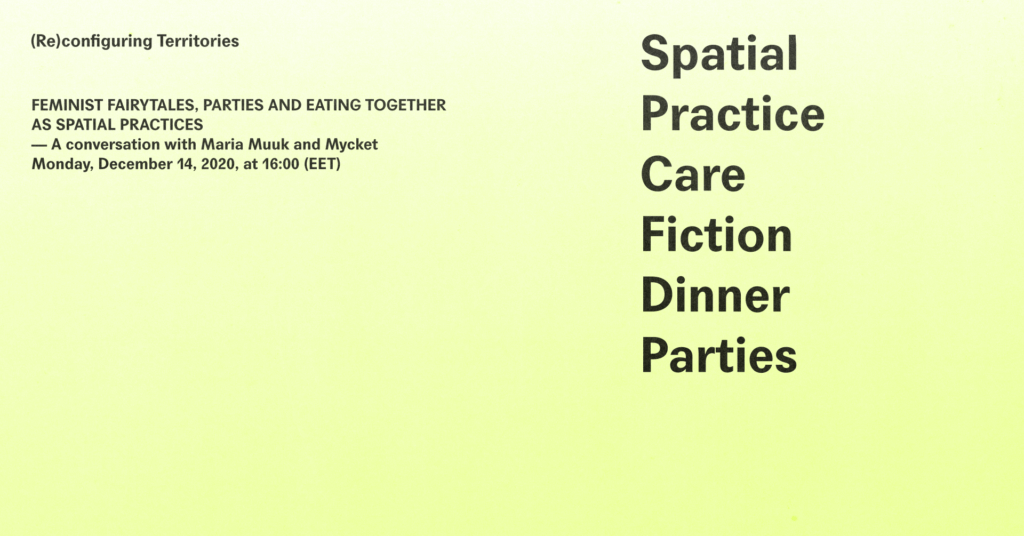 Feminist Fairytales, Parties and Eating Together as Spatial Practices
–– A Conversation with Maria Muuk and MYCKET
Monday, December 14, 2020, at 16 (EET)
Could fiction and eating dinner together be seen as ways to question the conventional methods of spatial and design practices? Can these careful methods create a more resilient and discursive architecture and design culture?
In the talk, the art & architecture group MYCKET (Mariana Alves Silva, Katarina Bonnevier, and Thérèse Kristiansson), graphic designer/writer/baker Maria Muuk and curator Kaisa Karvinen investigate strategies in each of their practices and dream about possible roles of architects and designers in the neighborhoods of current society. The talk starts with a short reading.
The conversation can be followed online on Zoom
Join Zoom Meeting https://zoom.us/j/96883934474?pwd=a0djMFUwUW5tZExSTzNYd1Znb0lSZz09
Meeting ID: 968 8393 4474 Passcode: 668799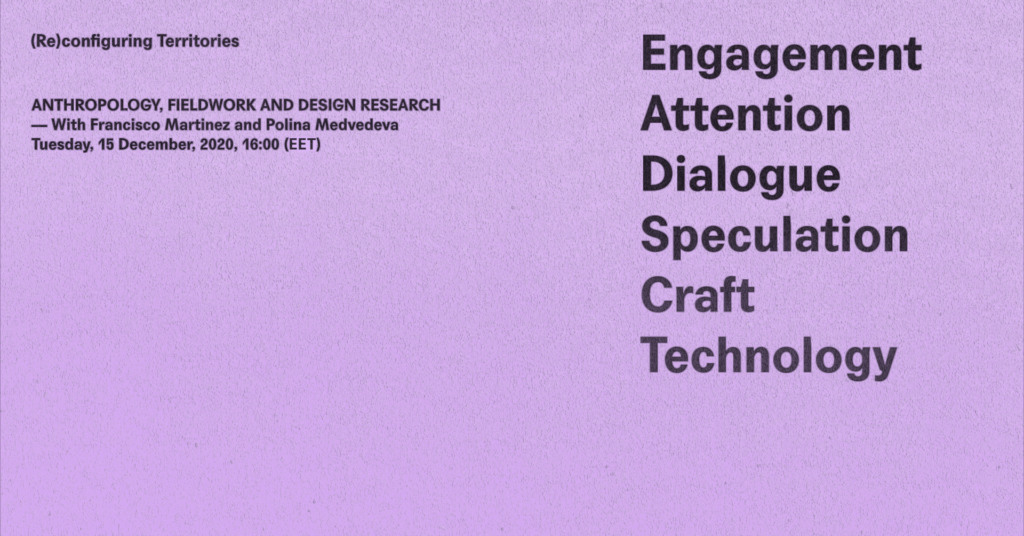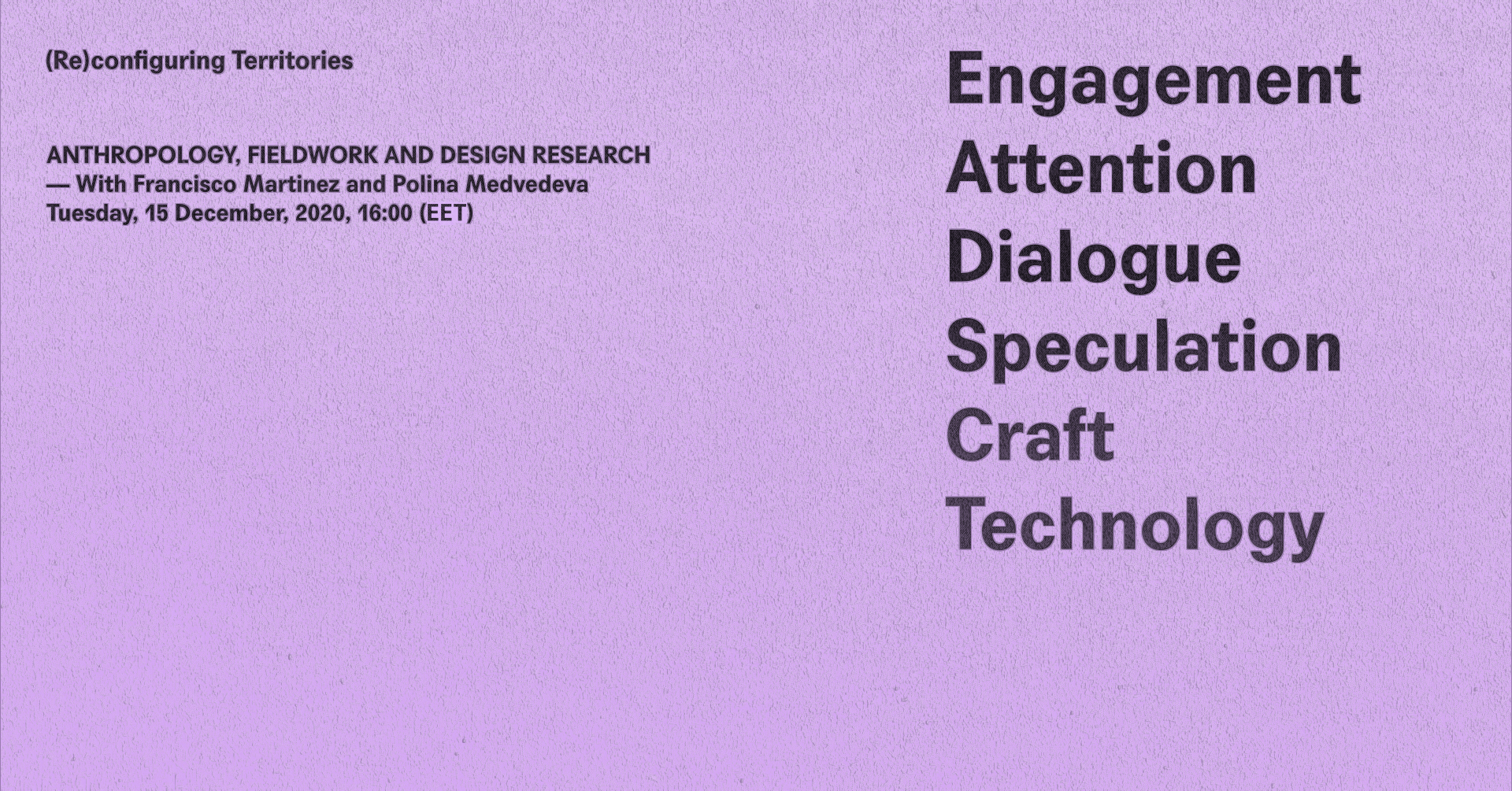 Anthropology, Fieldwork, and Design Research
– With Francisco Martinez and Polina Medvedeva
Tuesday, December 15, 2020, at 16 (EET)
Interest in anthropology is growing in situated architecture and design research circles, with fieldwork and community-led design processes becoming an increasingly important part of the critical discourse. What should architects, designers, and artists know from anthropology and its methodology? What can these disciplines learn from each other?
(Re)configuring Territories program curator Tommi Vasko will talk with professor Francisco Martínez and filmmaker and artist Polina Medvedeva about fieldwork and the relationships between artistic research and anthropology.
The conversation can be followed online on Zoom
Join Zoom Meeting https://zoom.us/j/97753784034?pwd=TTJrQnZCT1VXS3g5MDhRSWxxSzlPdz09
Meeting ID: 977 5378 4034 Passcode: 785924