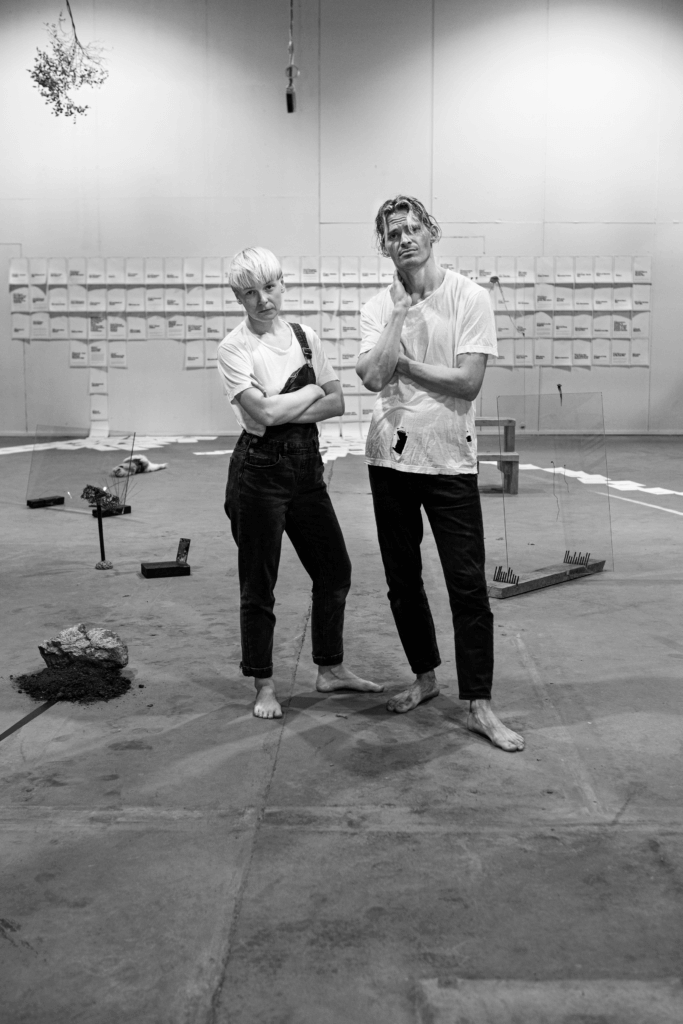 As a duo varialambo (Varia Sjöström, visual artist, musician and performer Hatz Lambo, visual artist, poet and performer) we formed in Berlin in 2018. 2019 we moved to Helsinki and were invited to the Festival Today Is Our Tomorrow. 2020 we have been invited to curate and facilitate an 8 months long Performance LAB program at Museum of Impossible Forms Helsinki and the Festival NOTHING TO LOSE. Last August we unveiled The Chainsaw Man, an immersive performance made for an online livestream format and supported by the KONE home residency grant. In September 2020 we launched our art and poetry book The Itching Triangle at PUBLICS, Helsinki. 2021 we will exhibit our new work Narrating WAR / HABITAT 1 in collaboration with Ali Akbar Mehta, and open Partners in Crime I-X our solo exhibition at Myymälä2 Helsinki.
"We like the idea of social fantasy. We like the state of over exhaustion and lasting plays. The repetition of given narratives is one of the last dinosaurs on earth. It's time to bury it with dignity but fast."
varialambo's CV here.
Residency 2022
→ Pезиденция 2022
→ Residentuur 2022
→ Residenssi 2022
How could a violent free world look like? Is a violent free society even possible? When does violence begin and what do we perceive as such And how can art contribute to a safer, more social environment? During our residency in Narva we want to focus on public space, control and women. Many indications point to the existence of a global system which, from the absence of suitable outdoor places for women for certain kind of practices to the narration of news, demands women, and single women in particular, to spends as little time as possible outside home or any closed and controlled place of professional activity. Perhaps more importantly, the use of public space and its apprenticeship, especially at night, remain different for men and for women. How to explain that contemporary space is so little investigated, even though it is perhaps one of the last bastions of a manifest inequality of use between men and women, to the extent of an even inequality of possibilities of use, of which both are active and passive producers?
News
→ Новости
→ Uudised
→ Uutiset
The exhibition 'НА КОЗЕ НЕ ПОДЪЕДЕШЬ (YOU CAN'T GET THERE ON A GOAT)' exhibition debuts two site-specific spatial gallery interventions by recent NART Artists-in -Residents Andrea Stanislav (US) and varialambo (Varia Sjöström, Hatz Lambo) (FI/DE). The two solo projects link to transfigure NART's gallery spaces through a physicality of visual poetics and theatre, informed by dreams, experiences, performances, and unexpected events which took place at NART on the Estonian-Russian border in the Summer of 2022. Both artists reflect upon the sight of Narva as a contextualised charged corridor or 'Zona', where language, exile, history, neighbourliness, rapprochement, diplomacy and cyclical memories shift into immersive environments of light, sound, sculpture and moving image.
varialambo is currently at the Reconfiguring Territories research residency in Narva. At the beginning of their residency, we discussed Narva's first impressions, getting to know new places and the plans they have for Narva.